Heading to or from the Gold Coast Airport and need transport?
Perhaps you're taking the kids on a ski trip in New Zealand? Have a business conference in Singapore? Going on a surfing holiday to Bali with your mates and taking your boards with you? Or perhaps you're heading to Japan for the Spring cherry blossom festival?… Or maybe you're flying in to the Gold Coast for a holiday in beautiful Byron Bay, Ballina or another local destination.
If you're flying in or out of the Gold Coast Airport, BBAT Ballina Byron Airport Transfers offer a direct express airport transfer service with best value fares to transport you and your group to and from the Gold Coast Airport.
Our airport transfers are private and convenient – you get the bus to yourselves!
We can pick you up with door-to-door service anywhere in Byron, Ballina or surrounding suburbs and get you to and from the Gold Coast Airport on time, with friendly and professional service. We also have plenty of storage space for your suitcases, skis and boards – just let us know what you'll be bringing when you make your booking.
Traveling between the Gold Coast and Byron Bay
The drive to/from Gold Coast Airport to Byron Bay takes about 45 minutes – you can just sit back in the air-conditioned comfort of our bus and enjoy the view.
The drive takes you past ever-changing scenery from lush green rolling hills and hinterland, sugar cane fields, stunning rivers and pristine coastline.
Keep an eye out for Mount Warning – also known as 'Wollumbin' meaning 'cloud catcher', by the Bundjalung people who lived in the region before European settlement. Named Mount Warning by Captain Cook to warn future mariners of the offshore reefs he encountered in 1770.
If you turn your head to the side you might make out the profile of a face, complete with a crooked nose, mouth and chin.
What do I need to know when I get to the Gold Coast Airport?
All domestic and international flights operate from the same terminal. Check in for domestic and international flights is located at the northern end of the terminal building.
After checking in, you can proceed to the central security screening point and onto the lounge area and your boarding gate. For domestic flights, make sure you are in the vicinity of your boarding gate at least 30 minutes prior to your departure time. You will find Flight Information Display Screens located throughout the terminal for up-to-date flight information.
The Gold Coast Airport has a range of shops selling books, magazines, fashion, gifts and snacks for last minute shopping.
You will also find a range of cafés and fast food outlets if you're feeling peckish before your flight.
For more information on the Gold Coast airport visit: https://www.goldcoastairport.com.au/
What do I need to know when I get picked up from Gold Coast Airport?
At Gold Coast Airport we pick up from The Transit Centre bus rotunda at the most northern end of the terminal building. The driver will call you and pick you up from there once all passengers are present with their luggage.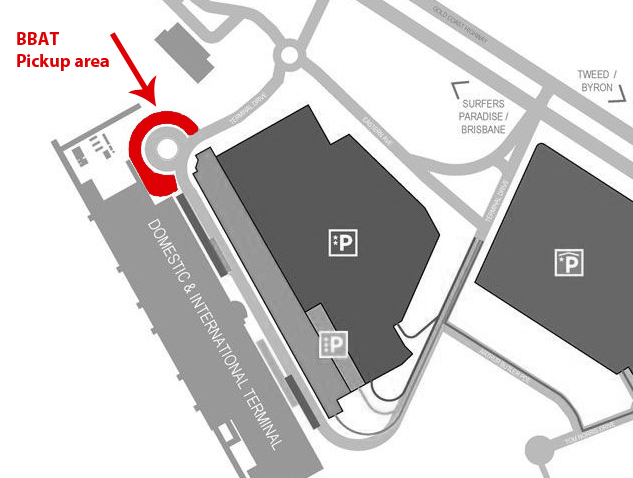 Going on a holiday to Byron Bay?
If you're flying in to the Gold Coast Airport and heading to Byron Bay for a holiday, check out our guide on the Top 10 things to experience in Byron Bay to help you plan our your days. Our drivers can also provide you with local information and recommendations during the drive.
To book your Gold Coast Airport transfer to or from Byron Bay, Ballina and surrounds, visit our online booking page. We look forward to getting you and your group to and from the airport on time!